JUS - 2004 - 3
digital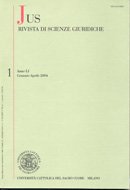 rivista
JUS
fascicolo
3 - 2004
titolo
JUS - 2004 - 3
editore
Vita e Pensiero
formato
Fascicolo digitale |

Pdf
Ebook in formato Pdf leggibile su questi device:
Sommario
di Giorgio Berti
pagine: 19
€ 6,00
Abstract ∨
The Author outlines the formative processes of the juridical rules, turning over in his mind the fundamental connection between the political power, in the various historical evolutions, and the legality. He dwells upon the juridical language, the form and substance of the law, the political sovereignty and the national States, the symbols and the image of the law, and, particularly, upon the stratifications, in the time and in the space, of the political power, the parallel and independent growth of the law, of the juridical language, of the personal guaranties.
di Mario Napoli
pagine: 18
€ 6,00
Abstract ∨
The essay analyses employment policies and the organisation of employment services in an Italian region with a special status: Valle D'Aosta. Before the State conferred the competence in this field on all regions. Valle D'Aosta had already worked out and implemented a series of interventions in the labour market, which have proved to be particularly innovative and consistent with the European strategy. Valle D'Aosta is regarded as a laboratory of ideas and practices that represent an example for the other Italian regions.
Consulta l'archivio
Ultimi 3 numeri
Annate disponibili online
Fascicoli anno
2004