Bruno Montanari
Titoli dell'autore
Potere e dignità della persona
digital

The particular nature of the constitutional state is that it doesn't subdue to its own sovereignty the free expression of the spiritual feelings....
Il quadernetto del giudice. La colpa quotidiana di Josef K. [Kafka]
digital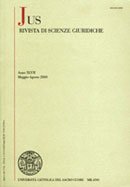 ABSTRACT: Besides «classical» (and legitimate) readings, Kafka's text seems to be open to a nonconventional interpretation able to point out the intrinsically «existential» trait of the text. The point of view is given by man's fi nite structure. This structure implies that man must always decide within a «situation», with all the joint conditionings and limits that situation it self puts on knowledge and refl ection. Because of his fi nite structure, man is, either consciously or unconsciously, accountable towards others, and this is an absolute accountability since God is its constitutive principle. This is an existential situation that obliges K., and each of us, to wonder about the sense of life: judge's «little note book» is a metaphor of that. Such a question could be advanced just on the «border» of reason, which imposes to overcome canons of rational «legality»: no general and abstract Law, either legal or ethical, could «clear» man once for all. KEY WORDS: legal proceeding, judgement and guilt, finiteness. SOMMARIO: 1.Una breve premessa – 2. Una strada di periferia. Un caseggiato popolare. Il tribunale – 3. La donna delle pulizie – 4. Il pittore Titorelli – 5. Di fronte alla Legge – 6. «…come un cane…».
«Soggetto umano - Soggetto giuridico». Il diritto nella prospettiva ontologico-esistenziale di Sergio Cotta
digital
In this article the author points out some peculiarities of Sergio Cotta's philosophical thought, which, through a double leave-taking (from Hegel and from Kelsen) and a distance-keeping (from Capograssi), interprets the legal phenomenon as the perspective giving normative meaning to the human existence conceived as a relational structure. The author underlines, above all, how Cotta works with a methodological approach based on sources coming from different scientific fields (anthropology, logics, psychoanalysis, linguistics). In this way, Cotta emphasizes the ontological structure of the existence as the existential legitimating foundation of the legal phenomenon.
Consulta l'archivio
Ultimi 3 numeri
Annate disponibili online
Fascicoli anno
2023