JUS - 2012 - 3
digital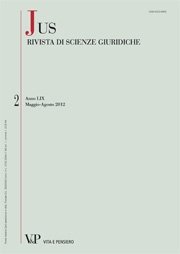 rivista
JUS
fascicolo
3 - 2012
titolo
JUS - 2012 - 3
editore
Vita e Pensiero
formato
Fascicolo digitale |

Pdf
Ebook in formato Pdf leggibile su questi device:
IL DIRITTO DI AZIONE E LA COSTITUZIONE:RIFLESSIONI DI PROCESSUALISTI GIORNATA DI STUDI IN ONORE DI LUIGI PAOLO COMOGLIO
Indirizzi di saluto: F. Anelli, G. Forti, O. Fumagalli Carulli
Relazioni
Introduzione
di Vittorio Colesanti
pagine: 6
€ 6,00
Abstract ∨
ABSTRACT:
Describing the academic career, the research activities and the scientific works of the honoured Scholar (Luigi Paolo Comoglio), this Introduction – through personal and deeply moved memories and shared experiences of advanced studies, especially (but non only) in the field of the constitutional guarantees regarding the access to civil justice and the right of defense – shortly analyzes the new methodological approach, the comparative perspective, and the high scientific level of the School of Procedural and Comparative Law, in Pavia, during the years 1960-1990, under Vittorio Denti's direction and supervision.

KEY WORDS: access to justice, right of action, right to invoke the jurisdiction of the courts, comparative perspective, fair (or due) process of law, economy of trial.
Il diritto di azione e la Costituzione: riflessioni di processualisti. La scuola di Pavia e l'insegnamento di Luigi Paolo Comoglio
di Corrado Ferri
pagine: 8
€ 6,00
Abstract ∨
ABSTRACT:
With a wide (and friendly) description of the honoured Scholar's judicial and academic career, the Author emphasizes the great contribution to the progress of comparative and procedural sciences, in the field of the constitutional guarantees concerning civil justice, that was offered by the School of Procedural and Comparative Law in Pavia, directed by Vittorio Denti, especially in the years 1960-1990. The essay, also, underlines the great importance which, due to that contribution, was increasingly acquired by the main subject matters dealt with (such as: due and fair process, contradictory defense, effective remedies, inadmissibility of illegally obtained evidence, and so on).

KEY WORDS: civil justice and constitutional guarantees, right of action (id est: fundamental right to bring an action and seek justice by legal process), right of action, illegally obtained evidence, economy of trial, comparative and international perspective.

SOMMARIO:
1. La scuola pavese negli anni Sessanta: metodi, indirizzi di ricerca e l'avvio allo studio diLuigi Paolo Comoglio. – 2. La monografia sulle prove illecite nell'ordinamento angloamericano e germanico, del 1966, il metodo comparatistico e le più recenti, attuali esperienze nel suo trattato Le prove civili. – 3. Diritto processuale civile e costituzionale. Le garanzie nel processo. – 4. Continuità e coerenza: dal Commentario alla Costituzione alle Lezioni sul processo civile. L'assistenza giudiziaria ai non abbienti. – 5. L'interesse dell'Autore alle normative di dimensione europea. – 6. Auspici per futuri studi.
Situazioni soggettive, tutele costituzionali e diritto d'azione
di Valerio Tavormina
pagine: 6
€ 6,00
Abstract ∨
ABSTRACT:
Rules on admissibility of evidence of facts pertaining to substantive law belong to the same field (substantive law). Restrictions in this subject are therefore as many restrictions of individual rights. It follows that the constitutionality of said restrictions depends on the wideness of the constitutional protection of same rights and not on the power (warranted it too by the Constitution) to enforce them through judicial proceedings.

KEY WORDS: evidence of facts, restrictions, substantive law, constitutional rights.
Poteri di rilievo offi cioso, diritto di difesa e (proporzionate) garanzie costituzionali
di Claudio Consolo
pagine: 16
€ 6,00
Abstract ∨
ABSTRACT:
This essay – dealing with the «principio del contraddittorio» and the judge's related duties, after the 2009 Reform – analyzes the constitutional relevance and the practical impact of the new additional rule in the italian code of civil procedure (art. 101, subs. 2), according to which the deciding judge, whenever he points out ex officio (namely: of his own motion) an issue (or a question) never focused and discussed by the parties before, must afford them a previous contradictory debate, under pain of nullity of the decision. In the Author's opinion, the sanction of nullity wouldn't be considered as an absolute rule, but its application should be proportionated, every time, to the varying measures of the harm really suffered by the parties' rights of defense.

KEY WORDS: constitutional right of defense before tribunals and courts, judges' powers to point out, of their own motion, some decisive issues (or questions), never discussed by the parties, previous contradictory debate, fair trial.

SOMMARIO: 1. Premessa: poteri officiosi e garanzie costituzionali nel giusto processo, ossia proporzionate al caso concreto – 2. La peculiare nullità comminata dall'art. 101, comma 2, c.p.c…. – 3. …ed il suo modo di operare – 4. Violazioni del contraddittorio «innocue» e «nocive» – 5. Il rilievo della violazione del contraddittorio in fase di gravame: conseguenze – 6. L'art. 101, comma 2, c.p.c. ed il primo grado di giudizio: carattere residuale dello strumento di recupero tardivo del contraddittorio omesso – 7. Questioni rilevabili d'uffcio: il loro perimetro.
La grande illusione (La ricerca «incompiuta» di un processo «giusto»)
di Luigi Paolo Comoglio
pagine: 7
€ 6,00
Abstract ∨
ABSTRACT:
In this essay, the Author – describing his own judicial and academic career, with special reference to his advanced studies, developed for about forty five years, in the field of the constitutional (and european) protection, and mainly concerning the access to the courts, the parties' contradictory rights or the judges' role in the trial's direction – tries to draw up a short balance-sheet on the «fair process» («giusto processo», «equo processo») in italian civil justice. The obtained results, unfortunately, are not satisfactory at all, because the «fair process» – due to the courts' unbearable overload, to the heavy litigation costs and the unreasonable time of the proceedings – is, in our judicial system, still so far, as to look like a mirage in the desert, turning too often into a justice denial or a late remedy refusal.

KEY WORDS: fair process, fair trial, constitutional (and european) guarantees concerning civil justice, access to the courts.

SOMMARIO:
1. Ringraziamenti e rilievi introduttivi. – 2. Ricordi e spunti tratti da personali esperienze. – 3. La concretizzazione in Italia delle garanzie costituzionali attinenti al «giusto processo». Illusioni, delusioni e perduranti speranze.
ARTICOLI
Contraddittorio, principio dispositivo e poteri del giudice nelle trasformazioni del diritto processuale civile
di Augusto Chizzini
pagine: 22
€ 6,00
Abstract ∨
ABSTRACT:
In modern age, according to continental tradition, Civil Procedure is not adversary, unsymmetrical, framed by a inquisitorial structure, mastered by judge's power. Napoleonic procedural system influenced contemporary codifications and modern procedural doctrine. Now, the Due process of law as ensured by Constitution, the international Conventions about process, the transnational jurisdictions, involve a fair restatement for a parity model of process, a «neo-isonomic» procedure.

KEY WORDS: Civil Procedure, Due process of law, parity model of procedure.

SOMMARIO:
1. Introduzione al tema – 2. Lite e ordinamento – 3. Le Maximen nella dottrina moderna – 4. La formazione del processo contemporaneo – 5. La codificazione napoleonica – 6. Il processo sociale di Klein – 7. Legitimation durch Verfahren: il contraddittorio come elemento di compensazione tra poteri del giudice e principio dispositivo alla luce dell'art. 24 Cost. – 8. Verso un assetto «neo-isonomico» della giurisdizione.
Dalla Costituzione al giudice penale interprete-fonte
di Marta Bertolino
pagine: 34
€ 6,00
Abstract ∨
ABSTRACT:
The pluralism of the sources of law together with the attribution of modern Constitutions to multiply values and points of view seems to undermine the principle of legality in criminal law matter. Also in this one other kind of legality can be found besides the legality to be found in general statutory rules: the constitutional legality stemming from the Constitutional Court's judgements, the legality coming from ordinary courts' and Supreme Court's decisions, the conventional legality of the European Courts. Therefore various subjects become sources of the rules beyond the statutory ones, which, according to the Illuministic tradition, were the sole sources of the laws.

KEY WORDS: criminal law, constitution, legality, judiciary.

SOMMARIO:
1. Quale legalità penale per un diritto penale ancora delle garanzie. – 2. Costituzione, legislatore e Corte costituzionale: esempi di legalità legale. – 3. La legalità costituzionale. – 3.1. La legalità costituzionale attraverso le sentenze di accoglimento additive. – 3.2. Le sentenze interpretative di rigetto: un altro modello di legalità costituzionale. – 3.2.1.I «rischi penali» dell'interpretazione adeguatrice. – 4. La legalità giudiziale: Cassazione e giudici ordinari all'opera.
Beccaria, Dragonetti e «l'imitazione stentatissima»
di Mario Pisani
pagine: 16
€ 6,00
Abstract ∨
ABSTRACT:
This study analyzes in what degree the work of Giacinto Dragonetti "Delle virtù e dei premi" (1766) may be considered an imitation of the best known work "Dei delitti e delle pene" (1764) of Cesare Beccaria, to which it has often been approached by publishers and critics.

KEY WORDS: Beccaria, Dragonetti, awards, awards law.

SOMMARIO:
1. Beccaria e la tematica dei premi. – 2. Giacinto Dragonetti e Antonio Genovesi. – 3. Le fortune editoriali del "Delle virtù e dei premi" e l'«operazione-ponte». – 4. Una sintesi del «libretto». – 5. Dragonetti «imitatore» di Beccaria. – 6. Dragonetti pioniere del diritto premiale.
Alcune osservazioni sulla legge «Brunetta»: quali prospettive di riforma?
di Maurizio Ricci
pagine: 9
€ 6,00
Abstract ∨
ABSTRACT:
In this article the aims of the various legislative reforms in public employment over the the last few years are analysed. After a brief summary of the rationale behind such laws, an evaluation is offered of the solutions adopted by the so-called «Brunetta» law in order to verify to what extent it is congruous with respect to the limits that have emerged in applying previous laws.

KEY WORDS: aims of the «Brunetta» law, collective bargaining, trade union relations in public employment.

SOMMARIO:
1. Finalità e limiti nelle riforme del lavoro pubblico. – 2. Riforma «Brunetta» e ruolo dei soggetti delle relazioni sindacali.
La CISL e il Diritto del lavoro
di Mario Napoli
pagine: 16
€ 6,00
Abstract ∨
ABSTRACT:
The article deals with the relationship between the Italian trade union «CISL» and the evolution of Italian labour law. After analyzing the history of post-war employment law in relations to the positions of CISL, the Author suggests that the «new trade union» (il sindacato nuovo) has exerted a considerable influence on important tenets of Italian employment law, like the conceptualization of collective agreements and concertation. The Author concludes that the role of CISL in the evolution of Italian labour law, albeit very important, is constantly downplayed because most legal scholars are closer to the main trade union confederation, «CGIL».

KEY WORDS: trade union «CISL», evolution of labour law, history of CISL.

SOMMARIO:
1. Ipotesi di ricostruzione dei rapporti tra CISL e Diritto del lavoro. – 2. La nascita della CISL e il Diritto del lavoro post-bellico. – 3. La coincidenza tra il Diritto del lavoro e le prime elaborazioni della CISL: inattuazione costituzionale e modelli di transizione. – 4. La convergenza sulla contrattazione collettiva. – 5. L'avversione alla legge sui licenziamenti. – 6. La tiepidezza verso lo Statuto dei lavoratori. – 7. La legislazione di matrice sindacale e la concertazione. – 8. L'accordo Ciampi. – 9. La CISL e la flessibilità. – 10. Gli enti bilaterali. – 11. Gli assetti contrattuali.
I partiti politici europei e il processo di democratizzazione dell'Unione
di Adriana Ciancio
pagine: 22
€ 6,00
Abstract ∨
ABSTRACT:
The study moves from the consideration of the significant role of political parties in the implementation of democracy and under these premises it focalizes on the problem of the European Union traditional democratic deficit reduction, monitoring the stage achieved in the process of consolidation of an European structured party system, stable and autonomous from the national parties. In this perspective it emphasizes the centrality of the parliamentary groups within the European Parliament in the process of formation of real European parties, which can fulfill the role envisaged for them by the Treaties, since the Maastricht one up to the most recent Treaty of Lisbon, to constitute key factors for community integration, for formation of European political awareness and expression of European citizen political will. Finally, the study reveals the boots given to the «institutionalization» of European political line-ups by the approval of the regulations regarding the European political parties statute and financing, approved in 2003 and amended in 2007, even though it realistically points out how the elections of the European Parliament, in the short to medium term, will continue in essence to be run by national parties, with all the inevitable and intuitable consequences which will be adverse to the development of the European Union as a political community (and not just economic) as it has been long desired by many parts.

KEY WORDS: political parties, European Union, democracy, integration, elections of Europarliament.
SOMMARIO:
1. La vita democratica dell'Unione ed il ruolo dei partiti politici europei. – 2. I partiti europei tra previsione e attuazione. – 3. I prodromi dei partiti europei: federazioni transnazionali e gruppi parlamentari. – 4. I criteri di formazione dei gruppi nell'europarlamento. – 5. La giurisprudenza comunitaria sul requisito delle «affinità politiche». – 6. L'origine «interna» dei partiti europei e le norme sul loro statuto e finanziamento. – 7. Nuove regole per i partiti europei e ulteriori prospettive evolutive
RECENSIONI
Le confessioni religiose nel diritto dell'Unione Europea, a cura di L. De Gregorio, il Mulino, Bologna 2012 (Michele Madonna, Università di Roma Tor Vergata)