JUS - 2010 - 3
digital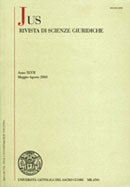 rivista
JUS
fascicolo
3 - 2010
titolo
JUS - 2010 - 3
editore
Vita e Pensiero
formato
Fascicolo digitale |

Pdf
Ebook in formato Pdf leggibile su questi device:
INCONTRO A RICORDO DI
ORIO GIACCHI
LA LIBERTÀ.
CHIESA, STATO, ECONOMIA PUBBLICA, POLITICA.
TESTIMONIANZE E RIFLESSIONI A CENTO ANNI DA
Introduzione
di Ombretta Fumagalli Carulli
pagine: 5
€ 6,00
Riflessioni
Sul contributo di Orio Giacchi al Diritto canonico
di Carlos José Errázuriz M.
pagine: 5
€ 6,00
Orio Giacchi canonista
di Enrico Vitali
pagine: 7
€ 6,00
Il contributo di Orio Giacchi al Diritto ecclesiastico
di Giuseppe Dalla Torre
pagine: 17
€ 6,00
Orio Giacchi
di Francesco Margiotta Broglio
pagine: 6
€ 6,00
Testimonianze
Un ricordo
di Achille Vinci Giacchi
pagine: 1
€ 6,00
Orio Giacchi: l'impegno politico
di Giorgio De Giuseppe
pagine: 4
€ 6,00
La riforma dello Statuto dell'IRI (settembre 1953 - dicembre1954)
di Alberto Cova
pagine: 16
€ 6,00
Orio Giacchi e l'Unione Giuristi Cattolici Italiani
di Fernando Del Re
pagine: 4
€ 6,00
L'associazionismo
di Edoardo Teodoro Brioschi
pagine: 5
€ 6,00
Conclusioni
di Giorgio Feliciani
pagine: 1
€ 6,00
ARTICOLI
Occupazione, protezione sociale, nuovi modelli di welfare: alcune riflessioni
di Maurizio Cinelli
pagine: 30
€ 6,00
Abstract ∨
ABSTRACT: The article deals with the present challenges that the Italian model of welfare state is confronting. The author concentrates his attention particularly on the pension system and on the social benefi ts in case of unemployment. The fi rst one appears too generous for a population which is ageing quite fast: however, any reform must take into account the role played by retired people as substitutes for services and benefi ts provided in other countries by welfare state schemes. The system of benefi ts for the case of unemployment is patchy: it is particularly weak for people with atypical jobs. In conclusion, the author criticises a tendency of the recent reform of Italian welfare state to swap hard rights for weaker positions; in his opinion, the main challenge of Italian welfare state lies with increasing individual and responsible involvement of citizens in the provision and fi nancing of the services.
KEY WORDS: welfare state, pension system, occupational pensions, unemployment benefits.
SOMMARIO: 1. Vecchi e nuovi modelli di welfare: il modello assicurativo come riferi mento – 2. Sistema delle pensioni e invecchiamento demografi co: una questione decisiva e cor rettamente affrontata? – 3. Nuove realtà produttive e polifunzionalità degli ammortizzatori sociali – 4. Fasti e nefasti delle assicurazioni sociali – 5. I grandi temi in contesa: pubblico-privato, soli darietà-merito, responsabilità- assistenza – 6. Tensione alla libertà, accettazione del rischio, individualizzazione delle tutele – 7. Verso nuovi modelli, tra ambiziosi propositi, equivoci, contraddizioni, povertà di risorse dedicate.
Dove va il pubblico impiego
di Alessandro Garilli
pagine: 14
€ 6,00
Abstract ∨
ABSTRACT: The article shortly analyses the evolution of employment regulations in public administrations, considering the ways in which employees' skills and performances are taken into account. Afterwards it describes the last legislator's interventions (n. 15/2009 and 150/2009), shaped on authoritarian business akin rules, putting in evidence their contradicions with the structure of the last reforms, based on private contract rules, and their diffi culties in enforement.
KEY WORDS: employment in public administrations, personal skills, reform 2009.
SOMMARIO: 1. Premessa – 2. La crisi del modello pubbicistico – 3. La scommessa della privatizzazione. La prima fase della riforma – 4. Segue. La seconda fase. I punti di sofferenza e le ricadute sulla professionalità – 5. La riforma «Brunetta». I nodi problematici della rilegifi cazione della disciplina
Europa e armonizzazione previdenziale
di Paola Olivelli
pagine: 42
€ 6,00
Abstract ∨
ABSTRACT: The article deals with the action developed by the European Union in the fi eld of social protection. The author starts by describing the main feature of the European social model and the present main challenges it has to face. Then, she analyses the sources of competence of the EU with regard to social security, basically embedded in the TFEU articles on the free movement of workers and in the chapter on the social policy. The author goes on by analysing the secondary law of the EU in this fi eld: regulations on the social protection of migrant workers and directives on occupational pensions and against discriminations in the systems of social security. The article ends with the description of the open method of coordination in the domain of social cohesion and social protection.
KEY WORDS: Social security, social protection, European social model; EU social policy, EC regulation n. 883/2004; directive 98/49/EC; directive 2003/41/EC; directive 79/7/EEC; open method of coordination; social cohesion.
SOMMARIO: 1. L'Europa e il modello sociale europeo – 2. La politica sociale nei Trattati europei – 3. La nozione di sicurezza sociale nei documenti comunitari – 4. La sicurezza sociale nei Regolamenti – 5. La previdenza complementare – 6. Parità di trattamento -–7. La sicurezza sociale e la strategia per l'occupazione (SEO) – 8. Il metodo aperto di coordinamento.
Le prospettive della Carta Sociale Europea
di Giovanni Guiglia
pagine: 34
€ 6,00
Abstract ∨
ABSTRACT: The European Social Charter (ESC), adopted in Turin on 1961 and reviewed on the Nineties, is actually dealing with both the Treaty of Lisbon and the incomplete disposal of the Article 151 of the TFEU. In particular, the protection of social rights established by the General Provisions governing the interpretation and application of the Charter of Fundamental Rights of the EU discloses the role of the social rights as functional to the civil and political ones. In this framework, the progressive interpretation of the ESC by the European Courts of law could be considered a fundamental instrument to harmonise and implement the protection of social rights at international level, also evaluating the European Committee of Social Rights (ECSR) decisions. Furthermore, an adequate protection of fundamental rights is now required by the reformed Article 117, sec. 1 of the Italian Constitution, as underlined by the latest decisions of the Constitutional Court.
KEY WORDS: European Social Charter (ESC), Social rights, Protection of social rights, Interpretative measures, Progressive interpretation of social rights, Judicial harmonisation, Article 117, sec. 1 of the Italian Constitution.
SOMMARIO: 1. La non adesione dell'UE alla Carta Sociale Europea – 2. Una prima reazione: sviluppare le tecniche interpretative del CEDS – 3. Una prospettiva «procedurale»: le interazioni tra Corte EDU e CEDS e l'armonizzazione giurisprudenziale – 4. Le prospettive della Carta alla luce del nuovo art. 117, 1° comma, della Costituzione – 5. Alcune considerazioni per (non) concludere.
L'Horror vacui e la sussidiarietà (a proposito di due recenti sentenze del Consiglio di Stato)
di Paolo Duret
pagine: 24
€ 6,00
Abstract ∨
ABSTRACT: The author analyses how the administrative judge tries to mould the principle of subsidiarity in two recent decisions and discusses some arguments relating to the meaning and scope of the new provision set out in the article 118 of the Constitution and some questions arising from its enforcement into administrative action.
KEY WORDS: principle of subsidiarity, utopia, public/private divide, public interest.
SOMMARIO: 1. Glissez, mortels, n'appuyez pas – 2. Consiglio di Stato, Sez. V, sent. 6 ottobre 2009, n. 6094: ovvero la sussidiarietà ed il letto di Procuste – 3. Consiglio di Stato, Sez. V, sent. 12 giugno 2009, n. 3711: ovvero la sussidiarietà ed il Golem.
Il regime giuridico delle opere d'arte negli edifi ci di culto in Italia
di Alberto Roccella
pagine: 12
€ 6,00
Abstract ∨
ABSTRACT: The essay analysis the protection of the objects of art in the places of worship of the Catholic Church in Italy. The protection is establishet by the canonic law and the internal rules of the Catholic Church, by the laws of the Italian Repulic and by an agrement between the Conference of Italian Bishops and the Minister of Culture.
KEY WORDS: cultural heritage, places of worship, agreement between Conference of Italian Bishops and Minister of Culture.
SOMMARIO: 1. Premessa – 2. La disciplina canonica – 3. La normativa civile e l'Intesa del 26 gennaio 2005.
RECENSIONI
La Chiesa cattolica in Italia. Normativa pattizia (M. MADONNA)
di Isabella Bolgiani
pagine: 3
€ 6,00
Servizi pubblici locali in trasformazione (B.L. BOSCHETTI)