Europa e armonizzazione previdenziale
digital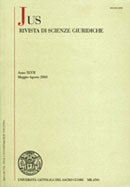 rivista
JUS
fascicolo
JUS - 2010 - 3
titolo
Europa e armonizzazione previdenziale
autore
Paola Olivelli
editore
Vita e Pensiero
formato
Articolo |

Pdf

online da
03-2010
issn
00226955 (stampa)
Ebook in formato Pdf leggibile su questi device:
ABSTRACT: The article deals with the action developed by the European Union in the fi eld of social protection. The author starts by describing the main feature of the European social model and the present main challenges it has to face. Then, she analyses the sources of competence of the EU with regard to social security, basically embedded in the TFEU articles on the free movement of workers and in the chapter on the social policy. The author goes on by analysing the secondary law of the EU in this fi eld: regulations on the social protection of migrant workers and directives on occupational pensions and against discriminations in the systems of social security. The article ends with the description of the open method of coordination in the domain of social cohesion and social protection.
KEY WORDS: Social security, social protection, European social model; EU social policy, EC regulation n. 883/2004; directive 98/49/EC; directive 2003/41/EC; directive 79/7/EEC; open method of coordination; social cohesion.
SOMMARIO: 1. L'Europa e il modello sociale europeo – 2. La politica sociale nei Trattati europei – 3. La nozione di sicurezza sociale nei documenti comunitari – 4. La sicurezza sociale nei Regolamenti – 5. La previdenza complementare – 6. Parità di trattamento -–7. La sicurezza sociale e la strategia per l'occupazione (SEO) – 8. Il metodo aperto di coordinamento.