Poteri di rilievo offi cioso, diritto di difesa e (proporzionate) garanzie costituzionali
digital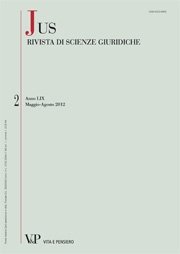 rivista
JUS
fascicolo
JUS - 2012 - 3
titolo
Poteri di rilievo offi cioso, diritto di difesa e (proporzionate) garanzie costituzionali
autore
Claudio Consolo
editore
Vita e Pensiero
formato
Articolo |

Pdf

online da
03-2012
issn
00226955 (stampa)
Ebook in formato Pdf leggibile su questi device:
ABSTRACT:
This essay – dealing with the «principio del contraddittorio» and the judge's related duties, after the 2009 Reform – analyzes the constitutional relevance and the practical impact of the new additional rule in the italian code of civil procedure (art. 101, subs. 2), according to which the deciding judge, whenever he points out ex officio (namely: of his own motion) an issue (or a question) never focused and discussed by the parties before, must afford them a previous contradictory debate, under pain of nullity of the decision. In the Author's opinion, the sanction of nullity wouldn't be considered as an absolute rule, but its application should be proportionated, every time, to the varying measures of the harm really suffered by the parties' rights of defense.

KEY WORDS: constitutional right of defense before tribunals and courts, judges' powers to point out, of their own motion, some decisive issues (or questions), never discussed by the parties, previous contradictory debate, fair trial.

SOMMARIO: 1. Premessa: poteri officiosi e garanzie costituzionali nel giusto processo, ossia proporzionate al caso concreto – 2. La peculiare nullità comminata dall'art. 101, comma 2, c.p.c…. – 3. …ed il suo modo di operare – 4. Violazioni del contraddittorio «innocue» e «nocive» – 5. Il rilievo della violazione del contraddittorio in fase di gravame: conseguenze – 6. L'art. 101, comma 2, c.p.c. ed il primo grado di giudizio: carattere residuale dello strumento di recupero tardivo del contraddittorio omesso – 7. Questioni rilevabili d'uffcio: il loro perimetro.