Risultati della ricerca
Influenza ed esercizio dell'attività di direzione e coordinamento: un percorso attraverso quattro recenti sentenze
novità
digital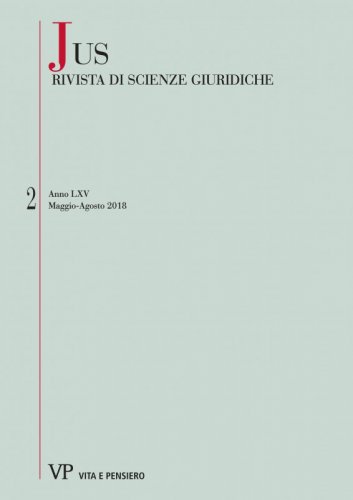 formato:
Articolo
| JUS - 2018 - 2
The paper examines the role of influence and exercise of direction and coordination (attività di direzione e coordinamento) of the parent company in the framework of group of companies regulation...
Discorso introduttivo
digital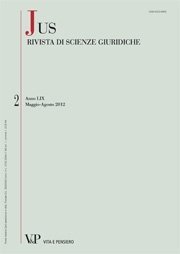 formato:
Articolo
| JUS - 2012 - 2
ABSTRACT: While introducing, as Dean of the Faculty of Law, the presentation of the Studies in Honour of Mario Romano, are outlined the academic career as criminal law professor for over forty years and some remarkable scholarly as well as personal traits of the honoured, which contributed to the overall enrichment he has brought to the university life and to the work of many fellow scholars. A special mention deserves how he has always been ready to help young researchers in their lives and careers and his cherishing an ideal of humanism, to be meant as eagerness to ever preserve the patience and the time needed for thought and personal conscience. KEY WORDS: studies in honour, academic career, criminal law, humanism.
Lo studioso e l'amico
digital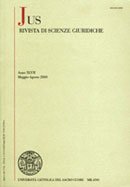 formato:
Articolo
| JUS - 2011 - 3
ABSTRACT: The essay outlines the main subjects and perspectives of the scientifi c work of Giorgio Pastori in the fi eld of public administrative law.
Feliciano Benvenuti e l'attività amministrativa
digital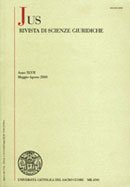 formato:
Articolo
| JUS - 2008 - 2-3
The paper gives a short account of Benvenuti's writings on the issue of administrative activity. Crucial concepts, like administrative procedure, citizens' participation, local government, have been explored by Feliciano Benvenuti in an original way that often anticipates legislative developments.
Feliciano Benvenuti: un percorso sulla via del diritto scienza umana
digital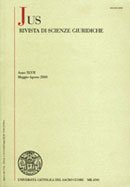 formato:
Articolo
| JUS - 2008 - 2-3
The author describes at a glance the entire works of his Master as a journey made of significant and relevant stages connected by a «file rouge» represented by the idea of the studying of the law such as a human science. Educated at the school of the positivism (Donati, Guicciardi), He has drawn, likewise a painter, its works with the passion of an artist and the attention of a scientist. Along the way and during his long and multifaceted life, the real meaning of the function of the administrative procedure and administrative justice is discovered in its significant «political» role: the public administration must always justify itself not as a naked power, for the dominant reason that the «active citizen» has to be regarded and treated at the same level of administration, on a parity ground.
Incontro di studio su «IL DIRITTO PUBBLICO IN TRASFORMAZIONE» (Milano, Università Cattolica, 12 maggio 2005)
Interventi di S. BARTOLE, G. CORSO, V. ONIDA, D. SORACE, G. BERTI
digital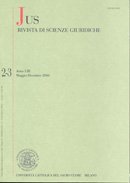 formato:
Articolo
| JUS - 2006 - 2-3
A proposito del «Corso breve di giustizia amministrativa» di Giorgio Berti. Presentazione del volume nell'ambito del Dottorato di ricerca in Diritto Amministrativo (Università degli Studi di Milano, 15 Maggio 2006)
Interventi di F. TRIMARCHI BANFI e V
Gratis
digital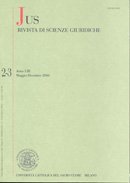 formato:
Articolo
| JUS - 2006 - 2-3
Globalizzazione, mercati finanziari ed investimenti in beni pubblici: spunti per un dibattito in corso
digital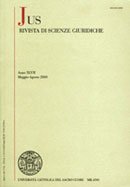 formato:
Articolo
| JUS - 2004 - 2
The author confronts various legal and financial problems connected with the structural and functional transformations of the stock-markets within the picture globalisation.
Ancora sull'euro e la continuità dei contratti in corso
digital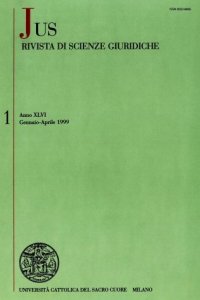 formato:
Articolo
| JUS - 1999 - 1. STUDI IN ONORE DI GIOVANNI MARIA UBERTAZZI
Le problematiche costituzionali del «concorso esterno» nel reato associativo
digital
formato:
Articolo
| JUS - 1998 - 1
Territorio giudiziario comunitario e insindacabilità del ricorso all'ordine pubblico: radicalizzazioni di segno opposto?
digital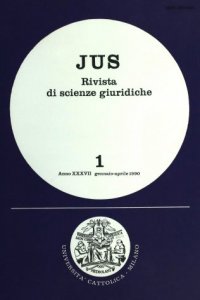 formato:
Articolo
| JUS - 1990 - 1
Abbozzo di un discorso sull'amministrazione pubblica
digital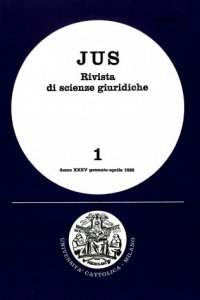 formato:
Articolo
| JUS - 1988 - 1
Affina la ricerca
Consulta l'archivio
Ultimi 3 numeri
Annate disponibili online
Fascicoli anno
2018