Risultati della ricerca
Feliciano Benvenuti e il diritto amministrativo del nuovo secolo
digital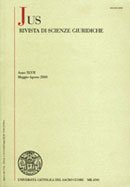 formato:
Articolo
| JUS - 2008 - 2-3
The Author outlines the main features of the modern democratic vision of Feliciano Benvenuti on the relations between public administration and citizens that has inspired the most recent developments of Italian administrative law.
L'istruzione nel processo amministrativo
digital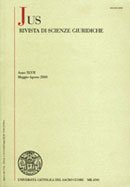 formato:
Articolo
| JUS - 2008 - 2-3
Feliciano Benvenuti's authoritative essay of 1953 starts from the subject of enquiries in administrative trials, which had been neglected for a long time, to expound a radically new concept of relationships among public administration and citizens, guided by the principle of substantive and judicial equal standing. This direction was followed by later developments in statute and case law, whose main features and open issues are briefly reviewed.
Le radici culturali e morali di un diritto amministrativo diverso
digital
formato:
Articolo
| JUS - 2008 - 1
The last scientific pages by Giorgio Berti mix with a skilful hand a learned doctrine and a melancholy mood. Looking backwards to his first steps as a student at the University of Ferrara, and afterwards as a scholar of public law, he travels over again the cornerstones of his thinking that consists of a different way of looking at the administrative law as a complex system which springs up from a society that has the ambition of governing itself in a perennial struggle and compromise with an authoritative state.
A proposito del «Corso breve di giustizia amministrativa» di Giorgio Berti. Presentazione del volume nell'ambito del Dottorato di ricerca in Diritto Amministrativo (Università degli Studi di Milano, 15 Maggio 2006)
Interventi di F. TRIMARCHI BANFI e V
Gratis
digital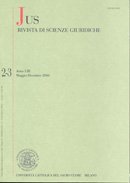 formato:
Articolo
| JUS - 2006 - 2-3
Contraddittorio (incompiuto) nel processo amministrativo e tutela della concorrenza nell'azione amministrativa: alcuni spuntisul rapporto sostanza-processo
digital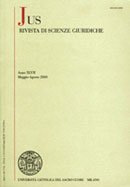 formato:
Articolo
| JUS - 2006 - 1
Some reflections about traditional gaps of administrative proceedings from the point of view of third parties contraddictory particularly seeing to the limits of voluntary partecipation compared to more consistent demands of free competition guarantee in public administration activity and procedures.
Il silenzio amministrativo: sovranità o sussidiarietà delle istituzioni
digital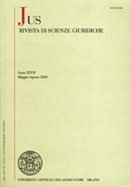 formato:
Articolo
| JUS - 2005 - 1-2
This paper analyses the role played by «enti bilaterali» (i.e. bodies created by collective bargaining) in Italian reform of labour market (decreto legislativo n. 276/2003). These bodies are called to enrole functions as work agencies, by organizing employment services in competion with regions and undertakings, and by making action to prevent disputes about labour contract contents («certificazione»).
La scienza del diritto amministrativo nel pensiero di Feliciano Benvenuti
digital
formato:
Articolo
| JUS - 2000 - 1
Legalismo e realismo nella dottrina del diritto amministrativo
digital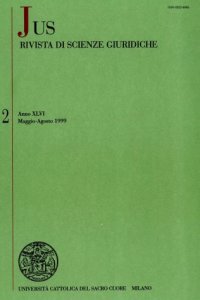 formato:
Articolo
| JUS - 1999 - 2
Scienza dell'amministrazione e diritto amministrativo: le difficoltà della convivenza
digital
formato:
Articolo
| JUS - 1998 - 2
Le autorità amministrative indipendenti, laboratori di un nuovo diritto amministrativo
digital
formato:
Articolo
| JUS - 1998 - 3
L'effettività della tutela nel processo amministrativo alla luce dei principi comunitari
digital
formato:
Articolo
| JUS - 1997 - 2
Il dedalo amministrativo e il diritto
digital
formato:
Articolo
| JUS - 1996 - 3
Affina la ricerca
Consulta l'archivio
Ultimi 3 numeri
Annate disponibili online
Fascicoli anno
2018