Enzo Balboni
Libri dell'autore
Per un'amministrazione nel segno dell'autonomia e della Costituzione
digital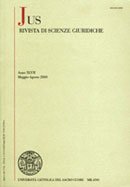 formato:
Articolo
| JUS - 2011 - 3
ABSTRACT: The essay is meant to suggest the major fi elds of interest of the long and largely appreciated scientifi c work of professor Pastori. They are: an idea of a non authoritative administration fully modelled not solely by the rule of law but by the social ends of a pluralistic and democratic Republic; a participated procedure and full expansion of social and political autonomies, especially at the regional level. SOMMARIO: 1. Tre idee forti del pensiero giuridico di Pastori – 2. La formativa esperienza interdisciplinare dell'ISAP – 3. Vocazione alla mediazione e professionalità docente – 4. Pluralismo, autonomie e un'amministrazione non autoritaria ma partecipata.
Feliciano Benvenuti: un percorso sulla via del diritto scienza umana
digital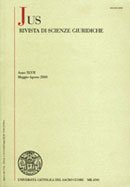 formato:
Articolo
| JUS - 2008 - 2-3
The author describes at a glance the entire works of his Master as a journey made of significant and relevant stages connected by a «file rouge» represented by the idea of the studying of the law such as a human science. Educated at the school of the positivism (Donati, Guicciardi), He has drawn, likewise a painter, its works with the passion of an artist and the attention of a scientist. Along the way and during his long and multifaceted life, the real meaning of the function of the administrative procedure and administrative justice is discovered in its significant «political» role: the public administration must always justify itself not as a naked power, for the dominant reason that the «active citizen» has to be regarded and treated at the same level of administration, on a parity ground.
Insegnamento, istruzione e scuola: profili costituzionali antichi e attuali
digital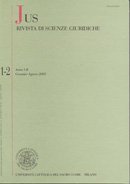 formato:
Articolo
| JUS - 2005 - 3
The Author shares the opinion, expressed by U. Pototsching, that «teaching is a different job»; it means that the school cannot be considerate as a public service like all the others. There is a duty to respect the young when they are growing up in the context of the precious but fragile educational relationship that arises between the teacher and the pupils, wich requires the freedom of teaching; it means, first, that the freedom of teaching cannot be regarded in an merely «individualistic and liberal» way. It means, secondly, that the freedom of the teacher is of the same type of the liberty of the student - that obtained, for this reason, constitutional protection - because of the particular way the student collaborates to his learning. The school promotes the development of the society and the flourishing of the self; for this reason, an open and pluralistic school - the «school of autonomy» - find its guarantees and protection in the Constitution. This was what Pototsching defines a community with peculiar rules whose task is to promote the full development of the personality of the pupils.